Some of the links in this post might be affiliate links, if you use them (which you don't have to) I'll receive a percentage of the money you spent.
Some of the links in this blog are affiliate, if you buy something, I make a small % of the profit, it doesn't affect the price you pay.
Anthropologie is as well known for its high prices as it is for its gemstone coasters and alphabet mugs. But at the end of the day, it's owned by Urban Outfitters, so it's hard to understand why it's so expensive.
Over the years, I've bought quite a few bits and pieces from Anthropologie, and I think I've got a good grasp of what's worth buying, and what you can get elsewhere, for a tiny fraction of the price.
Totally worth it
Hooks
I love an interesting hook. You can pretty much always pick them up in the Anthro sale for less than £5. I think that really isn't extortionate when compared to other shops. Yes, you can get a load of boring looking ones for less money, but why would you when you could choose something cuter!
This hook rack was another Anthropologie sale purchase, it's fab, isn't it! You can see how I used my hooks to accessorise in my bathroom makeover post.
Mugs
The mug in this picture ended up costing only £2.36 in the sale once I'd used an extra code. Anthropologie mugs are popular with my tea swilling boyfriend because they're huge. I like them because they look nice in my cupboards, even though I hate hot drinks.
They also make really good gifts if you're stuck for ideas. We have a J, and N and a P, even though we're an S and a B, just because I liked the pictures more.
Knobs
I think Anthropologie's range of cupboard door knobs and handles are probably the best value item they sell. The knob pictured above was the first thing I ever bought from there, in-store at their shop on Regent Street. The TV cabinet it's attached to was an ugly bargain I got from Homebase for £15, but the knob dresses it up and makes it look more expensive.
Full price, the knobs are between £6-10, but they are allllways in the sale.
Middling value
Glassware
The glassware sold at Anthropologie is very tempting. I have a 4 pack of hobnail glasses from Anthro that I use all the time. However, they are outrageously pricey. Even my sale bargain was around £13 for 4 glasses. And that's on the higher end of what I'd like to spend on something you could smash so easily.
Quality-wise, they aren't the best, either. I think you can see from the rim of the glass that it's a bit uneven, especially when compared to my charity shop find on the right. My tip is, if the type of glasses you're after have ever been trendy, keep an eye on charity or second-hand shops instead. The amber glass above I got four of them for £2 at my local! Similar coloured small glasses are between £6 – £12 EACH on the Anthropologie site.
Don't bother
Bedding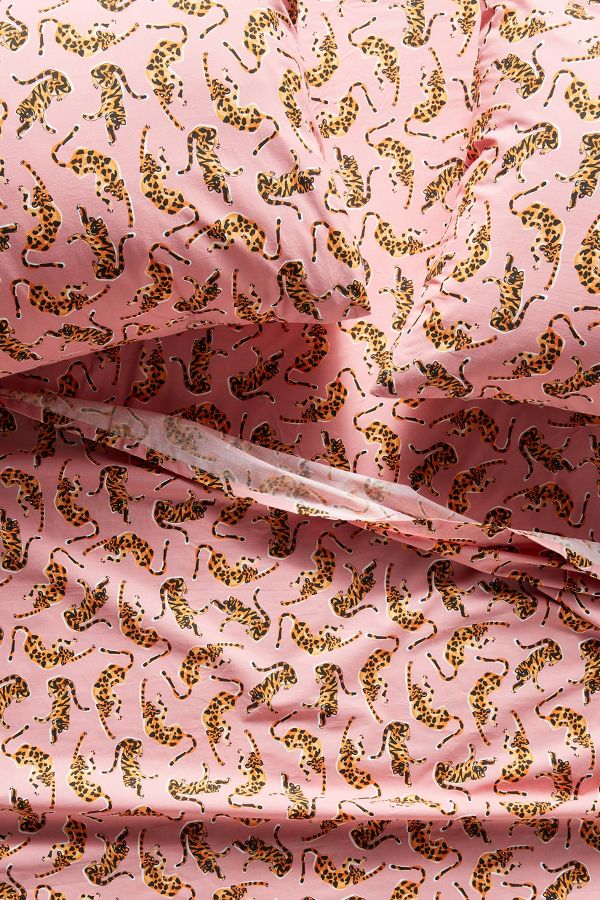 Anthropologie bedding is on another level of expense. The leopard print king size set above is £148… and it's just cotton bedding, I have no idea how they think they can get away with it!
It also only comes in king size, which is no good for me with a normal double bed. The reviews say it's actually pillowcases and flat sheets, not a duvet cover, either. Madness.
The duvet set I have (sorry, it's not ironed) was about £20 from M&S. It's a cotton/poly mix, but I think it looks just as nice, and it's literally a £130 saving…
Other places you can get lovely bedding from for considerably less:
Urban Outfitters – as I said earlier, it's the SAME COMPANY. I have a couple of bits of UO bedding and I do rate the quality. It's more around the £20-£40 price range.
La Redoute – their bedding is such a bargain. They have a real mix of styles and patterns, and you're almost guaranteed to find a sale or a 40% off code that can help you save even more.
Amara – this is on the pricy end, but their own brand and sales sometimes have some reasonable stuff. The spotty bedding pictured below is from Amara.
Primark – I think because Primark aren't online they get underrated. But the throw below was only £12, it's 100% cotton and it looks great in my room!
Furniture
Now, I don't own any Anthropologie furniture, and it's for one reason. Delivery is £95. NINETY FIVE POUNDS. Admittedly, this pays for an unlimited number of items, but they are so expensive across the board that it really doesn't make up for it.
It's kind of weird, too. Because even a massive rug is still on Anthro's normal delivery service, where a desk chair costs £100 to get delivered. Rude.
Where I'd look for Anthropologie furniture dupes:
Second-hand: this is always my first choice. All of the furniture I've got since I've moved has been either handed down, or from charity shops, Facebook marketplace or Gumtree. The quality you get is incredible, and you aren't paying a GRAND for a WARDROBE.
Homesense: some of the more modern types of furniture from Anthropologie aren't going to be found second hand, so I think Homesense is a good option. They have some velvet chairs in at the moment that really remind me of the stuff from Anthro.
H&M Home: for mirrors and candle holders, it's hard to beat H&M Home. Their stuff is reasonable, and delivery is free when you join their loyalty scheme.
Wayfair: now, I've never bought anything from Wayfair, but they do have a lot of similar styles to Anthropologie, but at a better price.
General Anthropologie shopping tips
Join their loyalty scheme.
Now, this is VERY under-advertised, but it gives you free delivery on a £75 spend, (doesn't include furniture). It's called Anthroperks and it's free to sign up.
Don't buy curtains
In the UK, as standard when you buy curtains you get a pair… Not at Anthropologie, where you get ONE single curtain at a mega inflated price.
Always wait for a code
There's an extra 20% off the sale on a very regular basis, so it's worth waiting for.
Shop elsewhere
As I've said above, there are so many shops nowadays doing Anthro-esque pieces for much less. Ones I haven't mentioned for good dupes are: Zara Home, Swoon Editions, TK Maxx, Flying Tiger and Matalan (where I bought this light, isn't it cool?!).
So, what do you think? Do you like Anthropologie homeware? Do you have any more tips I haven't thought of? Let me know!
PIN ME
(Visited 1,762 times, 1 visits today)